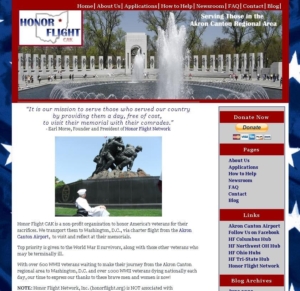 Since 2005, the Honor Flight Network (http://www.honorflight.org) has had one simple goal in mind, to safely transport America's veterans for free to Washington, D.C. to visit those memorials dedicated to honor their service and sacrifices. Priority is given to World War II veterans – who are dying at a rate of 1,000 every day – and then Korean and Vietnam War veterans and so on. HFN presently has 71 hubs in 30 states and by the end of the 2009 flying season in November, it will have transported more than 42,000 veterans of World War II, Korea and Vietnam to see the memorials built to honor their suffering and sacrifice to keep this great nation free and a world leader.
For Honor Flight Akron Canton (http://www.honorflightcak.org), BrandMill created a marketing communications system for this non profit volunteer based organization that consisted of a state-of-the-art plug-and-play Web Site and Blog, email marketing campaigns, online survey, social media marketing via Facebook, YouTube and other channels and various public relations efforts that earned significant media coverage to help honor veterans and assist the hub in reaching its fundraising and volunteerism goals.
BrandMill's involvement with Honor Flight CAK has led it to founding the first Honor Flight hub in Pennsylvania – Honor Flight of Western Pennsylvania.
[nggallery id=19]
Press Coverage
July 2, 2009 – VFW commander lauds Honor Flight experience
June 6, 2009 – Fourth local Honor Flight treats vets to daylong trip
June 5, 2009 – For local World War II Veterans, visit to D.C. was a trip of a lifetime
June 2, 2009 – Selflessness and Sacrifice
June 4, 2009 – Area veterans take trip to nation's capitol aboard Honor Flight
May 30, 2009 – More than 100 local WWII vets took Honor Flight today
May 28, 2009 – Area veterans to board Honor Flight
May 28, 2009 – Local WWII vets visit memorials in Washington, D.C.